Humans on Glass
Decorative Glass for Interior Design
Decorative glass has become a popular choice in interior design, offering a versatile and elegant solution to enhance the aesthetics of any space. With a wide range of options available, decorative glass can be incorporated into various interior and exterior applications, including glass objects and furniture, glass panels, and other architectural elements.
Glass objects and furniture provide a sleek and contemporary look, adding a touch of sophistication to any room. From coffee tables to shelves and lighting fixtures, custom art glass can be shaped, textured, or patterned to create unique and eye-catching pieces that blend seamlessly with the overall design scheme.
Etched Glass Paneling for Interior Design
Glass panels are another popular application of decorative glass. Whether used for room dividers, partitions, or doors, glass panels can create a sense of openness and visual flow while maintaining privacy and separation. Decorative glass panels, such as etched, carved, or textured glass, add an artistic and personalized touch to the space, transforming ordinary panels into stunning design elements.
In architectural applications, designer glass can be used for exterior facades, windows, skylights, and balustrades, among others. These elements not only enhance the visual appeal of the building but also provide functionality and natural light transmission. Decorative glass can be designed to complement the architectural style, incorporating patterns, textures, or even custom artwork.
When it comes to decorative custom glass products, Palace of Glass stands as the leading company in the field. Their expertise lies in producing high-quality etched, carved, textured, and patterned glass that caters to the unique needs of architects, designers, and home remodeling professionals.
With a team of skilled designers and glass artisans, Palace of Glass understands the intricacies of each application and works closely with clients to bring their vision to life. We offer a wide range of customization options, allowing for personalized designs that reflect the individual style and preferences of each project.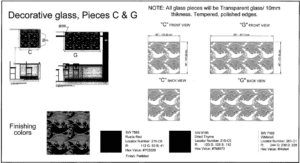 Palace of Glass not only provides exceptional craftsmanship but also ensures top-notch customer service. We built a reputation for delivering innovative and reliable solutions, exceeding the expectations of their clients time and again.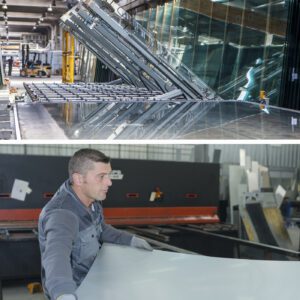 In conclusion, decorative glass offers endless possibilities for enhancing interior and exterior spaces. From glass objects and furniture to panels and architectural elements, designer glass adds a touch of elegance and individuality to any design project. Palace of Glass, with its team of expert designers and glass artisans, leads the way in providing custom decorative glass products. With our extensive portfolio and commitment to excellence, we are the go-to destination for architects, designers, and home remodeling professionals seeking top-quality custom glass solutions.