Water Designs
Elevating Interior Spaces with Exquisite Glass Window Art
Glass window art serves as a captivating and versatile medium for enhancing interior spaces, providing a harmonious blend of functionality and artistic expression. At Palace of Glass, skilled artisans cater to the interior design industry by crafting an array of exquisite solutions for decorative windows.
With our expertise in manufacturing etched and carved glass panels, custom windows and doors, decorative showers, art glass tables and furniture, art glass partitions, and glass sculptures, Palace of Glass offers a seamless integration of artistry and design.
Our commitment to customization and safety ensures that each glass shape can be tailored to specific requirements, with options for tempered and laminated safety glass. Collaborating hand in hand with clients, the Palace of Glass team ensures the success of every custom glass project.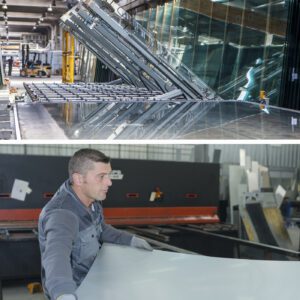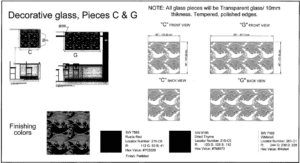 The Artistry of Glass Window Panels:
Glass window art adds a touch of elegance and sophistication to any interior space. Palace of Glass embraces the artistry of etched and carved glass panels, creating intricate designs that transform windows into captivating focal points. Etching involves the removal of glass material to achieve a frosted or translucent surface, while carving adds depth and dimension through cutting, grinding, or engraving. These techniques enable the artisans to craft personalized and intricate patterns, imagery, or textures onto the glass, transforming ordinary windows into works of art.
Custom Windows, Doors, and Showers:
Palace of Glass specializes in creating custom windows and doors that showcase both functionality and aesthetic appeal. Whether it's a stunning custom glass window or a contemporary frosted glass door, the artisans can bring any design concept to life.
Decorative showers offer a luxurious touch to bathrooms, with intricately designed glass panels that combine privacy and beauty. These customized elements elevate the overall ambiance of the space, adding a touch of elegance and personalization.
Art Glass Tables, Furniture, and Partitions:
Glass extends beyond windows and doors, with Palace of Glass artisans crafting artful glass tables and furniture. The combination of glass and other materials, such as metal or wood, creates striking and unique pieces that serve as functional art.
Art glass partitions provide both privacy and visual interest, allowing natural light to permeate while defining spaces. These stunning additions enhance the aesthetics of interiors, creating a sense of openness and style.
Safety and Customization:
Palace of Glass prioritizes safety in their glass window art creations. Tempered glass undergoes a controlled heating and cooling process, making it stronger and more resistant to impact. Laminated glass, composed of two or more layers with an interlayer of resin, provides enhanced durability and security. These safety glass options ensure peace of mind while maintaining the artistic integrity of the designs.
Collaboration for Success:
At Palace of Glass, collaboration is at the core of every custom glass project. The experienced team works hand in hand with interior designers, architects, and clients to understand their vision and bring it to life. The artisans provide guidance, expertise, and attention to detail, ensuring that each glass element is tailored to the specific requirements of the project. From concept development to installation, Palace of Glass strives for excellence and client satisfaction.
Glass window art has the power to transform interior spaces, infusing them with elegance, beauty, and functionality. Palace of Glass, with its dedication to artistic craftsmanship and customization, is a premier provider of decorative glass solutions for the interior design industry. From etched and carved glass panels to custom windows, doors, showers, tables, furniture, partitions, and sculptures, the artisans at Palace of Glass create breathtaking pieces that elevate the ambiance of any space. With a commitment to safety and collaboration, we ensure the success of every custom glass project, leaving a lasting impression on those who experience the artistry and charm of their creations.