Glass Decor
Glass decor has emerged as a stunning and contemporary option for wall art, adding a touch of elegance and sophistication to any space. With its versatility and ability to transform light, glass has become a popular choice for creating captivating and unique decorative wall art.
Using Fused Glass
One popular technique used in glass decor is fused glass. This involves melting together multiple pieces of glass at high temperatures to create a new, cohesive piece. Fused glass art can take on various forms, from vibrant and abstract compositions to intricate and detailed designs. The fusion process allows for the incorporation of bold colors, textures, and patterns, resulting in visually striking wall art pieces.
Another technique that showcases the beauty of glass decor is carved glass. Skilled artisans carefully carve designs into the glass surface, creating intricate patterns and textures. Carved glass wall art can range from delicate and intricate motifs to bold and dramatic statements. When light interacts with the carved details, it adds depth and dimension to the artwork, further enhancing its visual impact.
Etched Glass for Decorative Murals
Etched glass is another popular choice for wall art. Through a chemical process, the surface of the glass is altered, creating a frosted or translucent effect. Etched glass art can feature elegant and intricate designs, often inspired by nature, abstract shapes, or geometric patterns. The interplay between the etched areas and the transparency of the glass creates a visually captivating piece that adds a touch of sophistication to any room.
Stacked sculptures are yet another fascinating form of glass decor as wall art. These sculptures are created by stacking multiple layers of glass, each with its own unique design or color, to create a three-dimensional piece. The layered effect adds depth and visual interest to the artwork, making it a captivating focal point on any wall.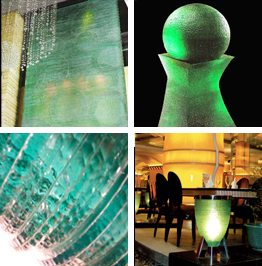 Call Us Today to Discuss Your next Custom Glass Project!
In conclusion, glass decor as wall art offers a myriad of options to express creativity and enhance the aesthetics of any space. Whether it's fused glass, carved glass, etched glass, or stacked sculptures, each technique brings its own unique charm and beauty. With their ability to manipulate light and create visually stunning effects, glass art pieces make for captivating decorative wall art that transforms ordinary walls into extraordinary focal points.