Glass Murals
Glass Murals for Interior Design: Things You Need to Know
Glass murals have emerged as a captivating and versatile element in interior design, offering a unique way to add color, texture, and visual interest to various spaces. Combining the timeless beauty of art with the transparency of glass, these panels create a stunning focal point that can transform any room into a work of art.
Decorative glass paneling can be customized to suit individual design preferences, making them an ideal choice for both residential and commercial applications. From abstract patterns to realistic landscapes or intricate designs, the possibilities are endless. The use of vibrant colors and intricate details in glass murals allows designers to create a truly immersive and visually captivating experience.
Glass Murals as Transparent Mediums
One of the key advantages of glass murals is their ability to harness natural light. By strategically placing decorative glass in areas where sunlight filters through, designers can take advantage of the play of light and shadows to create dynamic and ever-changing visual effects. This not only enhances the aesthetic appeal of the space but also creates a sense of connection with the surrounding environment.
Glass backsplashes can be installed in a variety of interior design applications, including walls, partitions, doors, and even ceilings. In large open spaces, such as lobbies or atriums, decorative backsplash can serve as a statement piece, adding a touch of grandeur and sophistication. In smaller rooms, glass murals can create an illusion of depth, making the space feel larger and more expansive.
The durability and versatility of glass make it an excellent material for murals. Tempered or laminated glass is often used to ensure strength, safety, and longevity. These types of glass are resistant to breakage and can withstand the test of time, making them suitable for high-traffic areas or spaces prone to moisture, such as bathrooms or spas.
Glass murals can also be combined with other materials to create a multidimensional effect. For instance, incorporating glass tiles or mosaic pieces into a larger mural design can add texture and depth, creating a visually stunning composition.
Furthermore, incorporating back-lighting techniques behind the glass mural can further enhance its impact, creating a dramatic and ethereal glow.
One of the most appealing aspects of textured glass panels is their ability to be customized to reflect the client's personality, preferences, or branding. From corporate logos and abstract patterns to nature-inspired scenes or historical motifs, glass murals can be tailored to meet specific design objectives and create a truly unique and memorable space.
Tips on Ordering and Installing Glass Murals
The installation process for decorative glass requires careful planning and professional expertise. It involves precise measurement, surface preparation, and expert handling to ensure a seamless and secure installation. Hiring experienced glass artists or installers with a deep understanding of the materials and techniques involved in creating glass murals is crucial to achieving the desired results. Palace of Glass team of designer will advice you on the best options for production and will create pre-production sketches to visualize your order.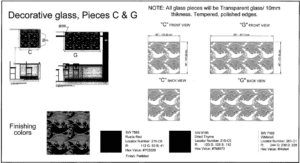 Glass backsplashes not only enhance the visual appeal of a space but also provide functional benefits. They can serve as privacy screens, allowing for the delineation of different areas while maintaining an open and airy feel. Additionally, they can be used as acoustic panels, helping to reduce noise transmission and improve the overall acoustics of a room.
In conclusion, glass backsplashes have become a popular choice in interior design applications due to their ability to combine artistry, functionality, and versatility. These stunning installations create a sense of wonder and intrigue, transforming ordinary spaces into extraordinary works of art. Whether used in residential homes, corporate offices, hotels, or retail spaces, glass murals add a touch of elegance and artistic expression, making them a truly exceptional element in interior design.
Contact Palace of Glass
Contact Palace of Glass today for a Free Estimate and to discuss your next project.