Laminated Glass
Revolutionizing Safety and Design in Modern Architecture
Laminated glass is the epitome of safety and design in modern architecture, offering unparalleled strength and durability. Palace of Glass specializes in producing custom glass products, including textured and etched glass panels.
With the ability to apply designs, patterns, and colors, create custom shapes, and drill holes or cutouts, Palace of Glass offers a diverse range of options to meet project requirements.
How the Glass is made?
The paramount advantage of laminated glass lies in its enhanced safety features. Comprised of layers of glass bonded with an interlayer, usually PVB, laminated glass maintains its integrity even when shattered. This prevents the glass from breaking into hazardous pieces, providing increased security against impacts, break-ins, and severe weather conditions.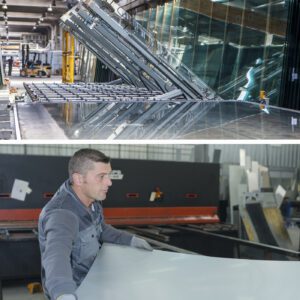 Laminated glass also provides immense versatility in design. Palace of Glass excels at producing custom glass products, where textured and etched glass can be assembled into panels. These panels create a captivating interplay of light and shadow, adding depth and visual interest to the space. Designers can customize them with their unique artistic vision, incorporating patterns, colors, and textures.
Moreover, glass can be shaped into custom forms, seamlessly integrating with the architectural concept. Palace of Glass's skilled artisans can create unique shapes, including curved panels and complex geometries, pushing the boundaries of design possibilities.
Practical Applications of Custom Glass Paneling
Practicality and ease of installation are also paramount considerations. Designer glass products from Palace of Glass can be fabricated with drilled holes or cutouts to accommodate fixtures and fittings, streamlining the installation process and ensuring a flawless end result.
Palace of Glass's architectural glass adheres to safety glass standards, merging the benefits of tempered and laminated glass. The combination of these features provides optimal strength, resistance, and security. Tempering increases the glass's durability and minimizes the risk of breakage, while laminating holds shattered pieces together, enhancing safety.
In summary, laminated glass has become an indispensable element of modern architecture, uniting safety and design seamlessly. Palace of Glass's expertise in producing custom glass products, including textured and etched glass panels, empowers architects and designers with a myriad of options. Safety, versatility, and impeccable craftsmanship are at the core of Palace of Glass's commitment to delivering exceptional designer glass products for contemporary architectural applications.